Have the better control on your Windows 10 users by setting up the time limits on the individual user of the Windows OS to better control their working according to your wish.
W

indows 10 is the another great operating system from the Microsoft Corporation, and it is packed with many new features that it's predecessors. The only reason that justifies the popularity of the Windows operating system is that it has some most helpful features that save your time also and in many of our previous posts, we discussed lots of cool tutorials that are used to customize Windows 10 to make it better for you. So, today here we are back again with a cool trick. Here in this article, you will come to know about one of the feature of Windows 10, i.e., setting up the time limit for Windows 10 user. Yes it's possible, and you can set the time limit for the particular user in your PC and after that use limit will get over and thus ensuring the proper utilizing of the time of the logged in user. So have a look on complete guide discussed below to proceed.
"How to Set a Time Limit for a Windows 10 User"
The method is quite simple and easy, and you just need the simple command prompt trick, and that will set up the time limit for the logged in user. And for this simply follow the steps discussed below to proceed.
Steps To Set Up Time Limit for a Windows 10 User:
Step 1. First of all, press Windows Button and then type Cmd and then press enter. Or press Windows Key + X and then select command prompt

Step 2. Now the command prompt will appear, and you need to type the below command there
net user username /times:M-F,10:00-22:00;Sa-Su,09:00-23:00
Let's Know how each part of the command works:
You need to replace <username> with the name of your account, or the account you want to limit

You need to replace <day> with the day you want to set time limits on. The initials of days are Su, M, T, W, Th, F, Sa.

You need to replace <time> with the range using either a 13 hour or 24-hour format. You can't add minutes to the time.
For example, we have set "net user hello /time:Sa,8am-4pm"

Step 3. You can even set the range of days with the same time limits. You just need to separate the days with the hyphen. For example, we have set the same time limit for Monday to Friday.

Step 4. If you want to Remove the restriction, then you need to enter the below command in command prompt.
net user username /times:all.

Step 5. If you want to see what times you have set simply type in this code in CMD
net user hello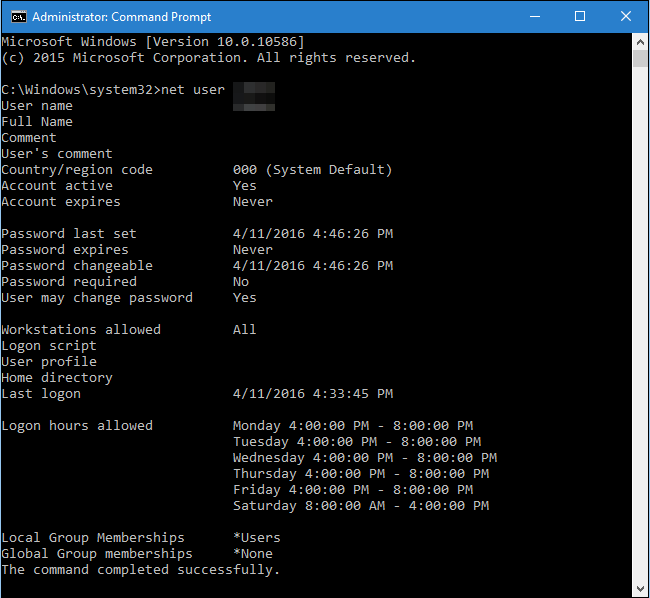 That's it you are done, now you can easily set up time limit with by entering this command.
So this is all about How to Set a Time Limit for Windows 10 Easily. With this method, you can easily manage the persons or restrict the different user accounts provided to them with the specific time limit, and this will check their working speed and lots of things that you will analyze from this. So try this out today and become a smart leader. Hope you like this, keep on sharing with others too. Leave a comment below if you have any related queries with this.
We bring to you latest happening in the digital world and the technology space. Which company is going to launch what new product? When do you expect a gadget to be launched? How to fix your technology issues? All such questions and issues are at the core of Source Digit. Our small team ensures that you stay updated with the latest in this fast-paced digital world.